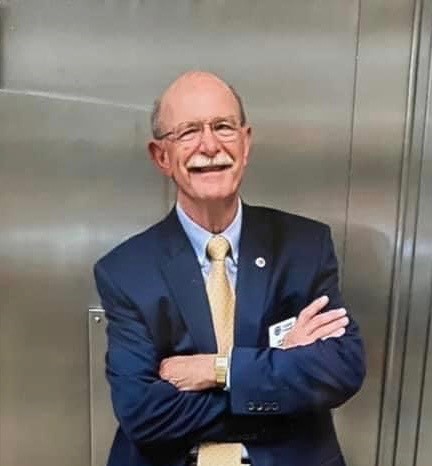 After working at various jobs in my younger years such as delivering the newspaper, waiting tables in a restaurant and stocking produce in a grocery store, I began my career in banking a couple of weeks after high school graduation in 1971.
In Kansas City, Kansas I was hired by Home State Bank to handle processing mail and supplies for the staff, and within 4 years I had moved up to processing loan transactions for the lenders.
I then transferred to an affiliate bank, The Wyandotte Bank in KCK, where I worked for 4 ½ years becoming Vice President of Operations and Security Officer.
Tower State Bank, also in KCK, recruited me to oversee their operations and I eventually became Senior Vice President and a Director.
After almost 5 years with Tower Bank, I was asked by the owners to move to Southwest Bank & Trust in Topeka which was an affiliated bank to become Executive Vice President. In 1987 I assumed the role of President/CEO and Director.
Southwest Bank & Trust merged into Capital City Bank in Topeka in 1993. I held various positions from Vice President to Executive Vice President in both the operations and lending departments.
In 2018 Capital City Bank merged into Capitol Federal Savings Bank where I was a Vice President/Commercial Lender until my retirement in October 2021.
I am married to Janice since 1974 and she headed our family raising 4 children, Joey, Jennifer, Johnny, and Julie. We are blessed with 9 grandchildren.
I attended several banking schools and banking classes and graduated from Donnelly College in KCK, AA Liberal Arts; Saint Mary College, Leavenworth, KS (now University of Saint Mary), BS Business Administration; and Colorado Graduate School of Banking, Boulder, CO.
My activities included lector, Finance Committee Chair, member of Knights of Columbus and adult Boy Scout Leader at Most Pure Heart of Mary Church and Booster Club officer at Hayden High School.
I was a member of the Kansas Bankers Association Rewards Committee for over 27 years and served as chair for over 20 of those years. The KBA presented me with a 50-year service award in 2021.
I was an American Institute of Banking Instructor and Adjunct Professor for various banking courses at Washburn University.
I served on various committees with the Greater Topeka Chamber of Commerce and was a member of the Board of Directors of Community Action, Inc. Topeka for 22 years, serving close to 4 years as President of the Board.